Is incoming inventory and inventory transfer data available?
Does Better Reports impact my online store?
Better Reports works entirely off the API data to create and maintain reports and doesn't work with the front end or the theme at all. We only have read_only access to your store and cannot make any changes to data/code so will have no impact on your store.
Is it possible to show markdown metrics?
Yes. Markdown can be computed using the difference between the variant 'Compare at price' and the 'Price'. A caveat is that whenever the 'Compare at price' is updated, all historical markdowns are immediately impacted. That is because Shopify doesn't record a historical 'Compare at price', at the time of the sale. Only the current/latest 'Compare at price' is accessible. Reach out to our friendly staff at
hello@betterreports.com
so we can create custom markdown metrics for your store.
Is it possible to show shipping label / shipping cost?
No, simply because Shopify doesn't provide shipping label data in their API. However, it is possible to create a shipping cost metric if it is calculated using a formula (usually based on order weight and / or shipping address). To create a formula-based metric, please reach out to
hello@betterreports.com
Can you report on traffic/visits data?
Visits reports tracking the number of visitors on collection pages are now unavailable in Better Reports as the API was depreciated.
However, you can replicate the same reports from the Shopify reporting directly. From Shopify's admin sidebar, please browse to Analytics > Reports > "Sessions over time" and edit columns to select the required fields.
Also, if you want the customer journey data (first visit URL, last visit URL) for orders placed, please let us know (See -
enabling specific fields
)
How are permissions managed in Better Reports?
Better Reports relies on Shopify for authentication, and anyone with access to the Better Reports app can access all reports. There is currently no setting option to specify user-level permissions.
This means anyone with access to your Shopify admin can access the Better Reports app (on the same subscription).
From the Shopify admin, you can tweak the users who have permission to use apps. Shopify Plus accounts also have the ability to manage app-wise permissions.
You can read more on it here -
If you'd like to limit access to your reports, you can remove access entirely from Shopify admin and set up a
Personal account
instead. This method allows you to invite only select users to access reports. Please contact us at hello@betterreports.com if you'd like to remove access from the Shopify admin.
You can review the visibility settings on the top right-hand side of individual reports (screenshot below). Built-in reports have different visibility settings depending on their purpose. All custom reports default to 'Hidden on POS' automatically.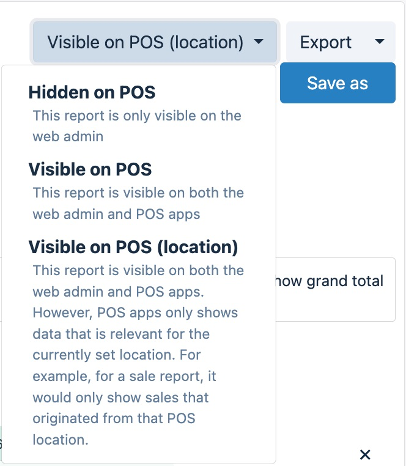 Why is some data showing [Unknown] in Better Reports?
Some data points are disabled by default in Better Reports and need to be manually enabled for your store.
The following data points require manual enabling: